The Pac Street Porch
Offering great food and an impressive tap line, the Pac Street Porch provides customers with an experience like no other. The décor is reminiscent of the quarry experience as it was in the 1870's. Corrugated metal walls, reclaimed wood accents and historic artifacts will stir up curiosity and conversation – customers will feel as if they were part of the 1870's, and can learn something new. Farm house tables with comfortable seating are the perfect match for a place of rest and time with family. Customers have the option to sit indoors and enjoy the rich history and warm ambiance or sit outside on the deck overlooking the adventure park. Outdoor seating offers views of rock climbing, free jumping, zip lining and suspension bridges.
Once seated, a friendly and knowledgeable server greets customers and is eager to assist in selecting a beverage. The beer menu showcases craft beers on tap from the newest leaders in the industry. The menu speaks for itself – offering something for everyone. Each menu item pairs wonderfully with one of our beer selections. Our servers are happy to recommend suggestions.
Some mouthwatering entrees include house-made beef brisket, corned beef and pastrami. Deciding which sides to pair with a meal will not be an easy decision. The kitchen offers shoe string fries, macaroni and cheese, cream-style corn, garlic mashed potatoes and salad with locally grown ingredients and freshly made dressing.
The Hop Dog
The Hop Dog offers counter seating and the ability to place an order to enjoy on our observation deck or other places throughout the park. Although smaller in scale than the Quarry Tap House, the customer service experience is still top notch. Offering a variety of hot dogs and sausages, each dog is carefully topped with fresh ingredients and placed in a premium bun from a local bakery.
To enhance the Dog House experience, customers can order old-time soda favorites such as sarsaparilla and crème soda – local craft beers are also an option.
Hand-cut fries made to order are sure to complement any our hot dog or sausage offerings.
Union Granite Creamery
Our ice cream parlor showcases an impressive selection of ice cream and yogurt with unique presentation sure to please each guest, regardless of age. A perfect way to end an action-packed day or just an excuse to meet at the Park.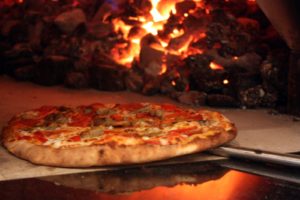 Eureka Pizzeria
Eureka Pizzeria will be anything but your typical pizzeria. Using traditional Neopolitan methods,  pizzas are made with ultra-crisp, thin crust and perfectly stretched dough topped with fresh, local ingredients. Each pizza is dressed with our simple marinara (tomato, garlic and oregano) and pairs well with any of our toppings. The Margherita pizza (tomato, sliced mozzarella and basil) is sure to be a crowd favorite.
Like to try a different spin on pizza? Order a Portafoglio (folded) pizza and enjoy it while strolling leisurely around our covered deck. Treat yourself to refreshing beverage – one of our favorites is a Peroni Nastro Azzurro.
The Overlook
We've saved the best for last.  Picture a 2,000 square foot deck extended over the rim of Big Gun Quarry and overlooking the canyon, the adventure activities, and the 60-foot high Waterfall.
That's The Overlook and it's all yours to enjoy with a cold craft beer, a refreshing wine-cooler or a light refreshment with appetizers.  While the kids enjoy Quarry Park Adventures, hang out here, a great place to relax and enjoy the beauty of the park while observing the fun all around you.