The Sky's the Limit for Everyone
Quarry Park Adventures has something for everyone. There's over 100 activities that provides guests with a whole day of fun they'll always remember.
There's a huge play zone just for the junior explorers that can entertain over 120 little ones at one time. In addition, there's private and public picnics areas, and a banquet area for private events. The Pac Street Porch is  a unique air-conditioned dining experience,  and at the Hop Dog you can grab a brats or gourmet hot dog with your favorite craft beer.  And of course, there's Union Granite Creamery where sweets and treats abound.
Quarry Park Adventures is truly a special place. Come zip, soar, climb and explore in a safe, wholesome atmosphere you will want to visit time and again.
 Big Gun Zip Lines
Choose your adventure on either the Cliffhanger, The Bullet or the Rocklin Express, the three side-by-side zip lines.  The zips total over 1,200 feet in length and propel guests up to speeds of 30 miles per hour.  Zip the Pit as you race your friends from high-above the Big Gun quarry to the canyon floor 60-feet below.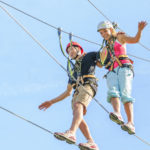 Rocky Point Aerial Adventure Challenge
Have fun on our aerial adventure course! The adventure course has three levels of play. Whether you want to challenge yourself to new heights or just have some fun, Rocky Point aerial adventure course will generate hours of entertainment for you. The three-story high ropes course has over 60 elements with most being very doable for guests, no matter their size or physical level.  (Note:  Guests must be 48″ to participate on the Rocky Point aerial adventure course.)
Prospector and Boom Pointer Wall Walks
Traverse around the park on granite walls 40-feet above the quarry floor! The The Prospector (high level) and Boom Pointer (low level) wall walks are the best places to view the beauty of Big Fun quarry.  Get an up-close feel or the granite as you easily move along the inside perimeter of the quarry, starting on the west wall, climb through swinging bridges as you wrap around the inside of the quarry to exit at the waterfall.

Mega-Trekker Giant Swing
Located on the rim of  Big Gun quarry, the Mega-Trekker giant swing will excite and thrill as you swing through a 60' arc out over the quarry floor. At the peak of the swing you will be roughly 100 feet up from the ground floor of the quarry.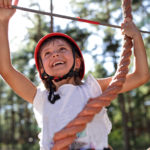 Pinnacle Pete's Climbing Stations
Test your strength and skills on one of ten climbing routes. The routes range from being easy for beginners to challenging for the advanced climbers. The natural granite sheer walls of the Big Gun quarry might remind you of the look and feel of climbing Half Dome while still enjoying the safety and comfort of Quarry Park Adventures.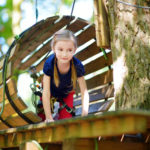 Quarry Kidz Kove
Junior Explorers will be able to play and squeal on our challenge area designed specifically for them! The Quarry Kids Kove has over 30 fun elements and appeals to little ones from 3-10 years old.  It can accommodate as many as 120 Junior Explorers are one time.  The Kove also has four zip lines and includes Billy Goat Boulders and Maze with granite boulders for children to climb and explore.  Parents are welcome to accompany their children.
Forty-Niner Free Fall
Enjoy a true free fall sensation as you jump from the rim of the quarry.  It's a  stomach-churning thrill that is followed by a soft catch and soft landing. The Forty-Niner Free Fall activity is a unique and memorable experience for participants who want an adventure.
Quinn Quarry Lake and Pioneer Port
Come enjoy a relaxing time in our paddle or row boats on beautiful Quinn Quarry Lake. A relaxing, rejuvenating excursion on the calm waters of the lake is an event families will love. The boats are perfect for anyone wanting to enjoy the outdoors, exercise, or even just people watch.