What Is Quarry Park Adventures?
Situated in and around a 60-foot deep, 160-year-old granite quarry, Quarry Park Adventures is a 5-½ acre family adventure park featuring a variety of interactive activities suitable for all ages.
The primary attractions include a three-level aerial ropes course; numerous zip lines; 10 climbing routes; free fall drops; horizontal walkways traversing the inner-perimeter of the quarry; a huge belay-free kids zone, a serene lake with with paddle boats; great food, gift shop and a dining area over-looking the quarry floor 60-feet below.
Where Is Quarry Park Adventures?
The park is located within the 16 acre Quarry Park in Rocklin, CA. Quarry Park Adventures is about a half mile off I-80 at the Rocklin exit at 5255 Pacific Street.
How Much Are Passport Tickets?
An "all-attractions" daily Passport is $44.99 for those and $14.99 for those under 48". Senior pricing is $34.99 for 60 years and above.  Kids two and under are free and do not require a ticket.
Do I Need a Passport if I'm Not Participating on the Attractions?
No, you are welcome to accompany and observe family or friends without the purchase of a Passport ticket.  Guests who participate on attractions are required to purchase a Passport.
Will I Need Special Training or Equipment?
Quarry Park Adventures is about fun in a safe, wholesome environment.  The attractions are entertaining and thrilling.  The park attractions can be easily enjoyed by all-ages and require no special skills.  Many of the elements require belays and safety helmets, so set-aside enough time on your visit to suit-up and attend ground school.
The Quarry Kids Kove requires no belays or helmets and no ground school.
Is the Staff Certified?
Quarry Park adventures is a ACCT (Association Challenge Course Technologies) certified course.
Safety is Quarry Park Adventures number one priority.  Our Adventure Guides have received extensive training and certification and must maintain a standard of excellence to maintain their position.   Safety personnel are constantly monitored, evaluated and trained to insure their skills and techniques are finely honed. All of our adventure guides who go through certification are ACCT certified.
Is There First Aid?
Whenever Quarry Park Adventures is in operation a trained and certified EMT is always present.  Additionally, the Rocklin Fire Department Station is located adjacent to the park.
Is There a Parking Charge?
Entrance to the parking lot at 5255 on Pacific Street, west of Quarry Park.  A new, 185-car parking lot serves Quarry Park Adventures and parking is free.  Please be courteous to others while navigating the parking lot.
Can I Bring Food?
Food and drink may not be brought into Quarry Park Adventures but there are picnic areas for the public outside the park premises.  We are unable to reserve picnic areas outside the Quarry Park Adventures premises.  Note that glass, alcohol or any dangerous objects are never allowed at public parks or at Quarry Park Adventures.
How about Team Building, Company Outings and Group Discounts?
We are specialists at hosting companies and groups.  Quarry Park Adventures has a turn-key package that's affordable, easy for you and most of all, LOVED by your team.  Email us for more info at info@quarrypark.com.
Do Spectators Need a Passport Ticket?
Passport tickets are only required for those who will be using the attractions and elements. Spectators may not participate on any attraction or element without a ticket.  Adults who accompany their kids into the Quarry Kids Kove may accompany their child.
Do I Need a Reservation?
Reservations are not required. Group, birthday and company reservations are accepted now.  Call 916.750.1772 to secure your special day at a substantial discount.
How Difficult Are the Adventure Elements?
Quarry Park Adventures is about fun.  The attraction and elements are designed to ensure guests will enjoy their day without being in peak physical condition.  For example, the three-story Pinnacle Pete's Aerial Course is designed for low or average skill and physical levels while just 30% is designed for more advanced climbers. The aerial course is designed as a "challenge by choice" attraction so you can pick and choose your difficulty.
Is Special Clothing Required?
Closed toed shoes are required. Tight fitting clothing is recommended.  No loose clothing, please.  Long hair should be put in a ponytail or some style to allow for physical activity. Jewelry should not be left loose.
Are there Age, Height or Weight Restrictions?
For all harnessed attractions like the Big Gun Zips, and Rocky Point Aerial Adventures users must be between 50 pounds and 250 pounds.  Guests under 12 years old must be accompanied by an adult.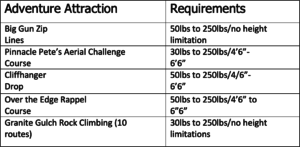 What's the Park's Inclement Weather Policy?
The Adventure Park is open rain or shine, so we recommend dressing for the weather!  In the event of severe weather (such as thunder, lightning, or high winds) the courses may close temporarily. Although we are unable to offer refunds, in the event of any course or park closures, your time may be extended, or vouchers will be made available for you to use towards future climbs that season!
What About Food and Refreshments?
Have we got some great food for you. There is a variety of food choices available to keep you fueled and energized during your day of adventure.
What Else Is Happening at Quarry Park Adventures?
Quarry Park Adventures is the home for special events year round.  The park will be hosting car shows, band festivals, kids shows, youth concerts, music contests and much more.  Quarry Park Adventures is the perfect venue for birthday parties, field trips, and company picnics parties. If you would like to schedule an event with us please CLICK HERE.
Stay up-to-date by joining the Quarry Club.