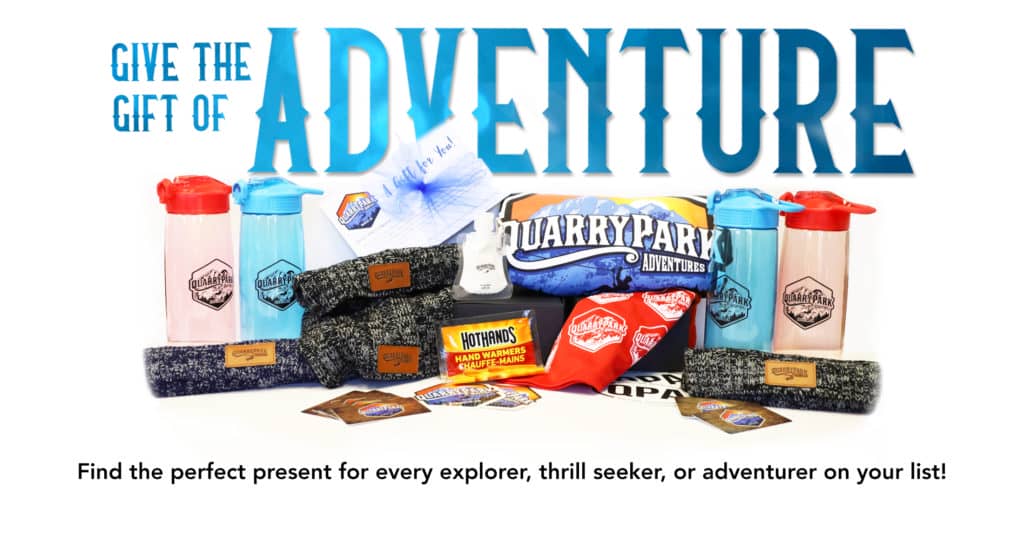 Quarry Park Holiday Packages are the PERFECT gift for all your adventurous loved ones! Looking to surprise your spouse or significant other with an adventurous date experience? A day at Quarry Park Adventures is sure to deliver! Parents and Grandparents, are you looking to gift kids experiences rather than just "things?" Our Holiday Packages are a fun way to give a day of adventure that will never be forgotten!
Holiday Adventure Packages come boxed up, ready to gift and be placed under the tree. Packages are available for pick up at our office, or choose to have your gift shipped for an extra charge. Be sure to also check out or Annual Passes and Gift Cards. We have something for everyone on your list!
Don't see exactly what you're looking for? Give us a call at 916-824-1680. We'll be happy to customize a package to your liking!
Annual Passes & Gift Cards
Our Annual Passes and Gift Cards make a great gift anytime of the year, but during the holidays, gift cards with holiday-themed sleeves are available to pick up from the Quarry Park Adventures office at no extra charge. Need us to ship? No problem! Delivery by mail is available at checkout for a small additional fee.