Join us at Quarry Park Adventures in Rocklin for our new entertainment series:
Drive-Ins at the Quarry!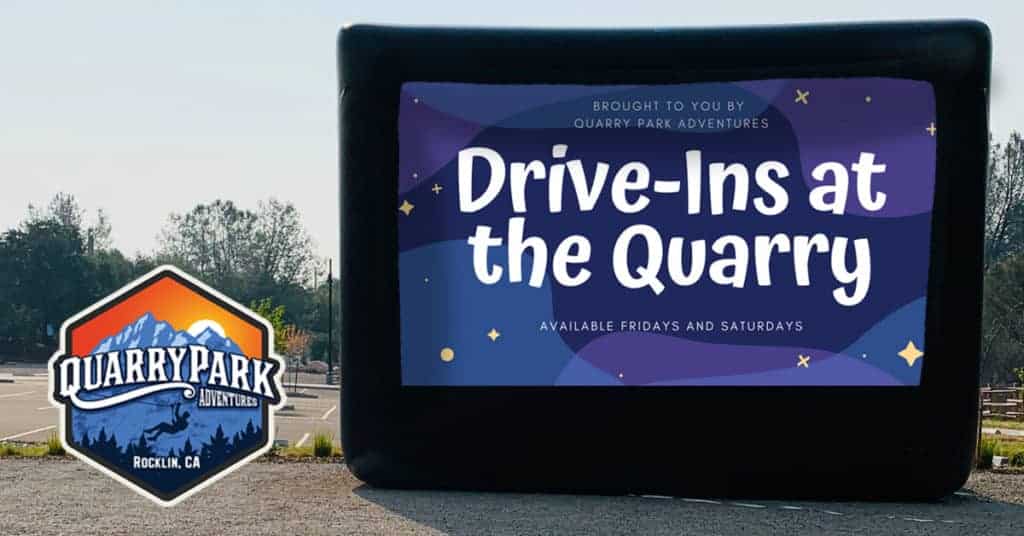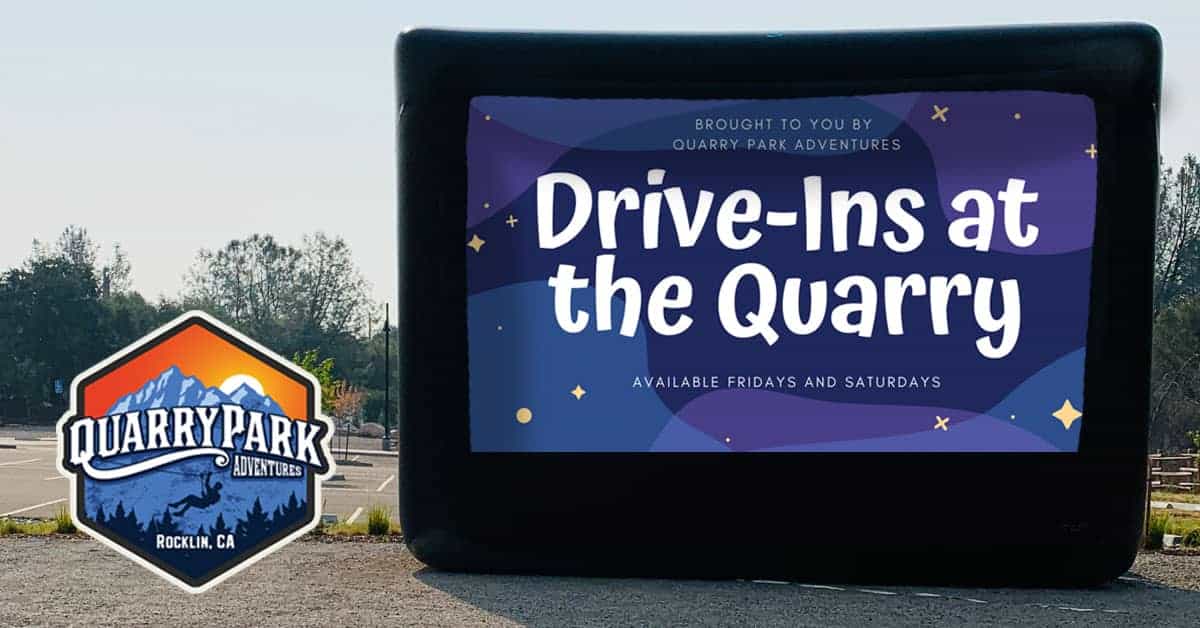 WHEN:
Friday & Saturday nights, running through the Fall.
Start time depends on sunset schedule. See each movie listing below for details:
Lot opens one hour prior to movie start time.
Friday, October 9: Guardians of the Galaxy – 7:00pm
Saturday, October 10: Trolls – 7:00pm
Friday, October 16: Indiana Jones: Raiders of the Lost Ark – 7:00pm
Saturday, October 17: Shrek – 7:00pm
Friday, October 23: Coco – 7:00pm
Saturday, October 24: Ghostbusters (1984) – 7:00pm
Thursday, October 29: APParition – 7:00pm
Friday, October 30: The Nightmare Before Christmas – 7:00pm + 9:00pm
Saturday, October 31: Hocus Pocus – 7:00pm + 9:15pm
Friday, November 6: Back to the Future – 6:30pm
Saturday, November 7: Onward – 6:30pm
WHERE:
Quarry Park Adventures, main parking area.
5373 Pacific St Rocklin, CA 95677
TICKETS:
$25 per car
The Quarry Park Adventures Team is always looking for new ways to provide safe and fun experiences for our community – especially now, with the decline of entertainment options that are available. At just $25.00 per car, Drive-In Movies at the Quarry are a great way to get out and enjoy some safe and affordable entertainment!
Safety is and always has been our number one priority, which is why we will have extra safety measures in place to ensure a safe and fun experience for all of our guests. We will have one car space left empty between each car. Feel free to roll down your windows, roll back the convertible top or sit in your truck bed, but setting up seating or chairs outside of your car will not be permitted. We will have our bathroom facilities open with a staff member attending to make sure that we have limited numbers in the restroom at one time.
Due to COVID-19 guidelines, limited spaces are available for each event date. Book your ticket now to secure your space!
NOTE: If you or anyone in your party are experiencing illness or symptoms of any kind, including the symptoms the CDC has noted as being most common with COVID-19, you are asked to please NOT visit Quarry Park Adventures at this time. Thank you.
Please call 916-824-1680 with any questions or book your tickets online today!