Groups
**Our Group Sales team works regular business hours, from 9 a.m. to 4:30 p.m., Monday through Friday. We respond to requests as quickly as we are able, and in the order received, typically within 24 to 72 business hours of receipt. Thank you!**
Quarry Park Adventures is a one-of-a-kind experience that is an incredible way to connect (or reconnect!) with friends, co-workers, or family right in the heart of Rocklin at one of the most unique and thrilling outdoor adventure destinations in the country.
Group Discounts
We are pleased to offer Group Discounts based on the quantity of same-type tickets booked in a single reservation.

20 to 49 tickets = 15% OFF
50+ tickets  = 20% OFF
Schools & Non-Profits = 25% OFF (special minimum of 10 tickets to receive this rate; proof of school/non-profit status required)
So, for example, if your group of 30 would like to book 30 Granite Adventure Tickets, we will gladly apply a 15% discount to those 30 tickets based on the rate offered on the day you would like to visit. (Please reference our Pricing Calendar or online booking system to verify rates for your desired date).
Interested in booking with a Group Discount or want more info? Complete the Group Inquiry Form on this page, and one of our helpful Sales staff will get in touch to discuss the details of your booking!
---
Corporate Events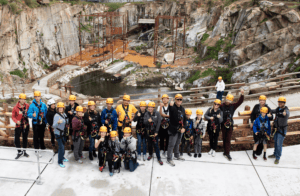 Whether it's for one department or the entire company, Quarry Park Adventures is the best place for a company to have fun. Choose to simply get out on the zip lines together or adventure for hours in the park — your choice. If you're looking for a unique Team Building experience, look no further! No matter what you choose, your day at Quarry Park Adventures will be one your employees talk about for years to come.
School Field Trips
Get out of the classroom and experience an unforgettable field trip together! Our Group Sales staff will work with you to determine the best approach for your school group's goals and schedule as you plan an unforgettable day at our adventure park!
Church Outings
Church outings are so much fun at Quarry Park Adventures! With our staff's help, plan your next leadership retreat, youth group outing, fellowship night, or offer a unique family bonding experience to your church members. The time spent together on our adventures will be memorable and meaningful for all!
Youth Events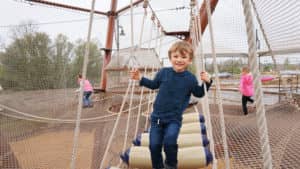 Scouts, sports teams, and community organizations can enjoy a fun-filled day at Quarry Park Adventures. Consider booking a day with us to celebrate the end of a year, a season, or simply to bond and enjoy the memories made while experiencing a truly unforgettable adventure together!
Birthday Parties
Birthday Parties are now available to BOOK ONLINE!
Let Quarry Park Adventures provide you with a fun and affordable birthday party experience — the best birthday party EVER! Little Adventurers will love time in our Kidz Kove (and parents will love the ease of setting everyone loose to simply have fun together) and older kids (and adults, too!), will love adventuring in the Quarry as a part of their birthday celebration. Review more Birthday information and book online here. We can't wait to help you host a fun adventure for your next birthday party celebration!