Quarry Kidz Kove Birthday Parties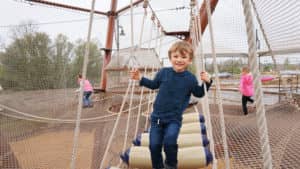 Let Quarry Park Adventures provide your young explorer with the easiest, most fun, and most memorable birthday party experience EVER! Quarry Kidz Kove is the perfect place for kids (ages 3 to 13) to run free, climb high, and hang loose — and for parents to breathe a sigh of joy and relief while you kick back at your dedicated picnic area and watch the kids have a blast! Book your party, then come prepared for a great time!
To reserve a birthday party, contact us at groups@quarrypark.com with your preferred date, time, and number of guests. We are happy to help!
Book your Kidz Kove Birthday Party today!
Ages
Package Rate
Package Includes
Available Start Times
Other Information
Kids ages 3 to 13

$250 for up to 10 kids

Each additional child just $25/person

No charge for accompanying adults

2 hours of adventure in Quarry Kidz Kove and Miner's Maze

Dedicated picnic table(s) with tablecloths set up for your group, located within Kidz Kove

Party favor bag for each child

Water cooler & cups

Trash can

9:0010:00

11:30

12:30

2:00

3:00

Outside food and drink (non-alcoholic) is permitted.
Quarry Adventure Park Birthday Parties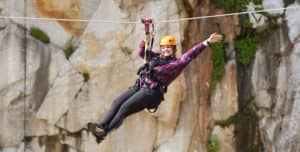 Interested in booking a birthday party for an older child or an adult to experience the adventure offerings located in and atop Big Gun Quarry? Simply choose the ticket type you prefer, and then book your group through our online system. Note that for adventures in the Quarry, all guests must meet our Participant Requirements.
A number of picnic tables are available for public use on a first-come, first-serve basis. Or, if you prefer, get in touch with our Sales Manager (groups@quarrypark.com) to reserve a dedicated group picnic space, available by the hour.