Personal Guide Service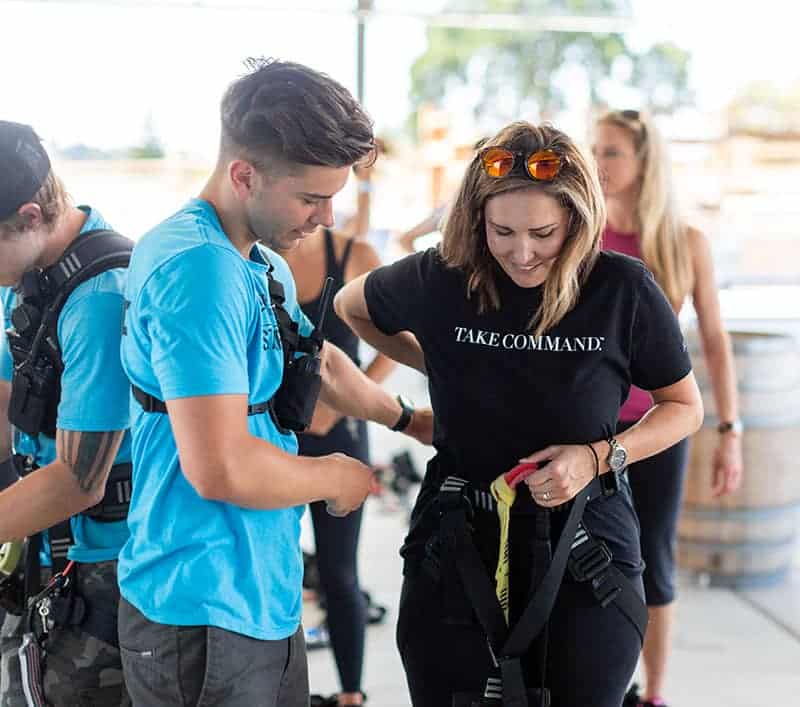 Maximize your adventure with our Personal Guide Service! Receive expert support to enhance your experience while you climb, zip, and soar together. Your Personal Guide will be with you or your group through every step of the way.
This Service is Ideal for:
Guests booking children under the age of 12. 
In addition to weighing a minimum of 45-pounds, ALL guests under the age of 12 are required to have Supervising Companion who accompanies and actively participates on the Quarry adventures with the youth adventurer.
If you are not interested or are unable to participate with your youth guests, book a Personal Guide to fill the role of the Supervising Companion. Not only will your young ones have a day full of fun, but they'll be personally and expertly guided through their adventures!
Guests looking for a more personal, guided adventure experience.
Quarry Park Adventures is a self-guided adventure park experience. Adventure Crew Staff are positioned throughout the Park to provide assistance if needed – much like Life Guards at a pool – but for guests looking for next-level service, our Personal Guide Service can help you and your group get the most out your adventure.
Benefits of the Personal Guide Service: 
Supportive Companion:  Our Guides are great adventure companions that will support, help and encourage you and your group throughout the journey.
Expert Knowledge: Our Guides are experts on all elements. They will help you select the right activities to accommodate your skill level and ability, and show you how to traverse, zip, jump, and operate your safety equipment to best enjoy your experience.
Personalized Experience: Quarry Park Adventures is a big space, and there are so many things to do in a limited amount of time.  Our Guides will help you maximize your adventure and make sure your experience is outstanding from start to finish.
Guide-to-Guest Ratio:
To ensure the highest level of service, we keep our Guide-to-Guest ratio set at the following:
For guests under 70-pounds and less than age 12, we book a maximum of TWO guests per ONE guide.
For guests weighing 70-pounds or more who are age 12 or older, we book a maximum of SIX guests per ONE guide.
Ready to Book?
Our Personal Guide Service must be booked at least 48-hours ahead of your desired adventure date/time and is subject to staff availability. Are you within 48 hours of your adventure with us but interested in having a Personal Guide? Give us a call at 916-824-1680, and we will gladly check availability! 
Guests booking Quarry Adventure Tickets: Book your Gold or Granite Quarry Adventure Tickets online and you'll be provided the option to "Add On" our Personal Guide Service to your reservation.
Pricing: 2 Hour Personal Guide Service – $75.00   –   4 Hour Personal Guide Service – $150.00
Guests booking a Personal Guide to serve as youths' Supervising Companion: Please give us a call at 916-824-1680 to book our Personal Guide Service along with your adventure tickets. We'll be happy to help!