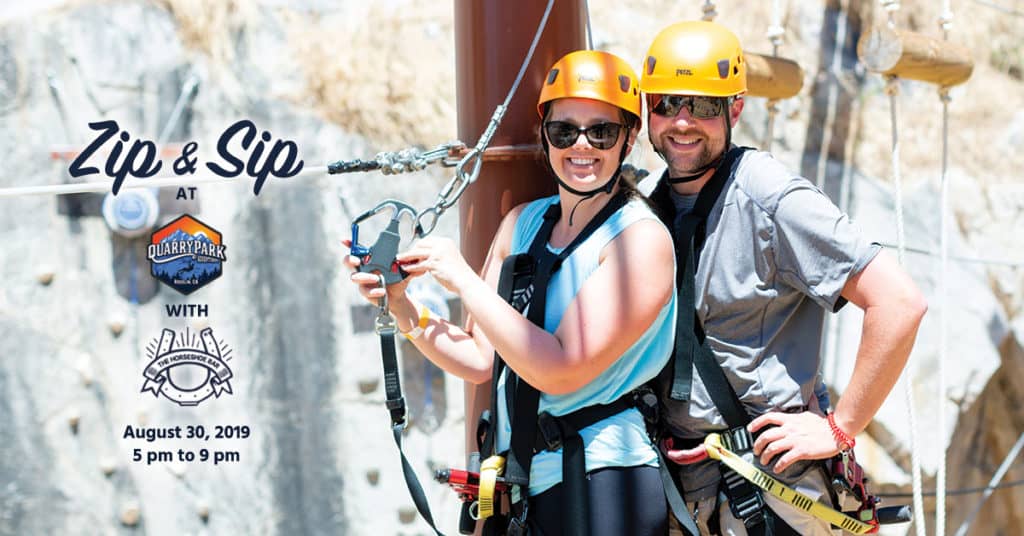 An evening of adventure and fun!
Ziplining followed by cocktail sipping? Who doesn't love the sound of that?!! Quarry Park Adventures is excited to announce that on August 30th from 5pm to 9pm, we are hosting our first, one-of-a kind Zip & Sip event for Sacramento area thrill seekers and cocktail lovers alike. Tickets are now available to purchase online!
To help make this event awesome, we've asked The Horseshoe Bar, a boutique beverage bar, to join in on the fun. The Horseshoe Bar brings a one-of-a kind bartending experience to the Sacramento area that offers a unique drink menu selection combined with an energetic and knowledgeable staff. At Zip & Sip, take on a new adventure with a friend or loved one and then relax by finishing off the evening with a delicious custom cocktail or glass of wine. Best of all, a portion of proceeds from this event will be donated to Ticket to Dream, a nonprofit dedicated to providing hope and opportunity for foster children across the nation.

Since Quarry Park Adventures' grand re-opening under new management on April 12th, we've proudly served more than 21,000 guests. We've hosted large annual picnics, city events and over 100 group outings and birthday parties. With eight exciting adventures, our park truly has something for everyone!
Our Zip & Sip event ticket includes a 2-Hour All Access pass plus your first drink from The Horseshoe Bar. Guests will be able to experience not only the three-line-wide racing zip line, but can also choose to conquer our rock climbing walls, free fall, rappel, traverse a few trails on our aerial adventure or try out a bit of the via ferrata! Quarry Park Adventures is unique in the nation – no where else can guests find such a great variety of aerial adventure offerings all in one place (and for one great price!) Plus, Quarry Park Adventures is the only adventure park built in and atop an historic rock quarry — truly memorable!
We are especially looking forward to the August 30th Zip & Sip event because, not only will it be a heck of a lot of fun, but also your participation will help benefit our local community. Ticket to Dream is a non-profit that was established in 2008, driven to provide funding opportunities that allow foster children across the nation the ability just to be kids. From teaming up with local businesses and surrounding communities, they have established a network of partnerships to help kids get a variety of support that they need to succeed. Quarry Park Adventures is eager to grow our relationship with the Ticket to Dream Foundation to contribute to their already successfully mission of helping foster kids – just be kids. 
The team at Quarry Park doesn't want this to be a one and done event, we are in the midst's of planning our next Zip and Sip event set to take place on October 4th.  Benefiting Kids First, a nationally recognized non-profit.  With this series of events, we hope to grow our relationships in the community as well as building a foundation for philanthropic fun!
Tickets for the event are $50 per person and $65 on the day of the event.
Note: While guests of all ages are welcome to attend and adventure at the Park during the event, NO persons under the age of 21 will be permitted to enter the area where drinks will be served.