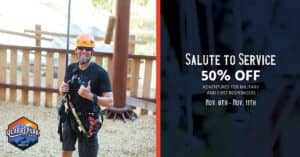 Salute to Service – November 8th -November 11th- Appreciation  Event
Celebrating Military Members and First Responders
Friday, November 8th through Monday, November 11th
Quarry Park Adventures Salute to Service Weekend Event
We have the wonderful opportunity as a local business and members of the community to show our sincerest gratitude to our super-hero service members.
Our team at Quarry Park Adventures would like to extend a huge THANK YOU to Military members (Active, Reserve/Guard, and Veterans/Retired) and First Responders (Police, Fire, EMTs, 911 Dispatchers) who continually work to serve others. We're offering a 50% discount on our 2 HOUR or 4 HOUR All Access Tickets for this special group over Veterans Day Weekend, November 8th through November 11th. This discount is offered exclusively for the first 300 Military, Police, Fire or EMT's who book an adventure with us for this special weekend event! Proof of Military/First Responder status is required at check-in. Ready to book? Just book your 2 HOUR or 4 HOUR All Access Ticket online for any adventure start time November 8th through 11th, and use the code SERVICE at checkout to receive 50% off your Ticket. [One discounted ticket permitted per shopping cart transaction. Need help booking? Just give us a call at 916-824-1680.]

Since opening the park we've had many local military, fire and police members take on the eight vastly different adventure elements that our beautiful park has to offer. This park was built to serve families and groups alike. It is an uplifting experience to see the groups utilize the 60-element Aerial Adventure Course for team building exercises and families traverse across the Via Ferrata while building their communication strategies. With eight different adventures options, each individual's experience is set to be unique.  While our country's service members experience countless trials and tribulations during their service, here they are truly able to take off the stress, put on a harness and enjoy a beautiful day at the park with their friends and family!
Joining in on the spirit of gratitude during our celebration, on Saturday, November 9th from 10am to noon, will be a series of local businesses who will have booths on site to extend their appreciation and support for our local service members. We'll have food trucks during lunch hours during the weekend and also free cookies and hot cocoa for all.
With Veterans Day around the corner, our team choose the weekend of Friday, November 8th through Monday, November 11th to celebrate with all service members in our community. We appreciate all of the brave men and women of our country that put their lives on the line to serve every day and we look forward to serving you at Quarry Park Adventures!