Educator Appreciation Days – December 2019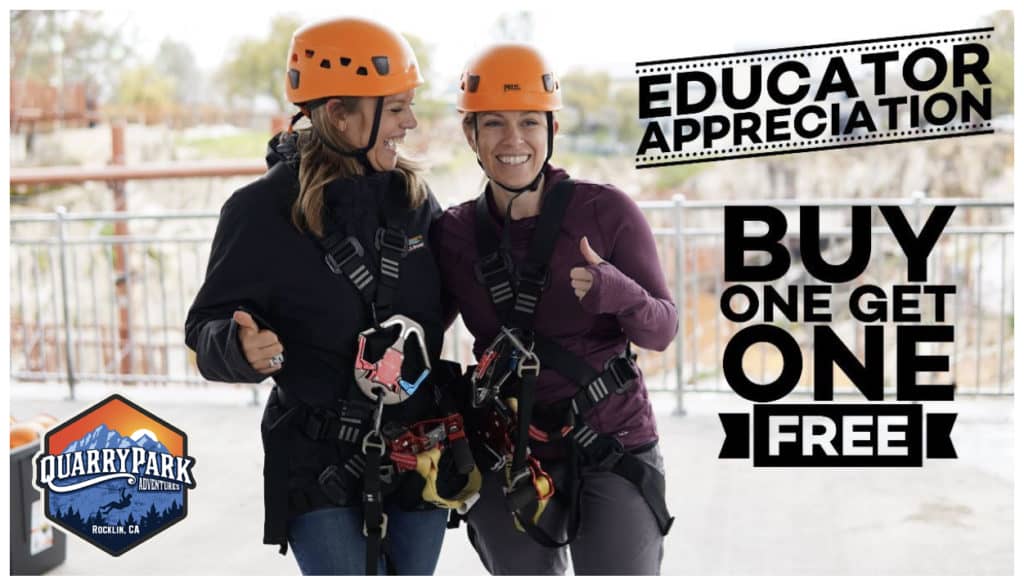 A special event celebrating Teachers and School Administrators with BOGO Tickets – all December long! 
Teachers and School Administrators: Book your adventure with us on any operating day in December at an incredible savings: Buy One, Get One FREE! 
We have the wonderful opportunity as a local business and members of the community to show our sincerest gratitude to our dedicated and wonderful teachers and administrators throughout our area.
Our team at Quarry Park Adventures would like to extend a huge THANK YOU to Teachers and School Administrators who continually play a pivotal role in our children's lives. We're offering BUY ONE, GET ONE FREE tickets on our 2 HOUR or 4 HOUR All Access Tickets for this special group all December long. This discount is offered exclusively for the first 300 Teachers and School Administrators who book a December 2019 adventure with us! Book now, as only limited tickets are available!
READY TO BOOK?
Just reserve your 2 HOUR or 4 HOUR All Access Ticket online for any adventure start time in December 2019, and use the code TEACH at checkout to receive your FREE ticket with a purchase of one of our 2 or 4 hour All-Access tickets. One BOGO offer permitted (2 Tickets Total) per shopping cart transaction. Need help booking? Just give us a call at 916-824-1680.
The booking guest must have valid school identification or paystub to present at check-in to retain this deal! Looking to bring your kiddo, friend or significant other who isn't working in a school? GREAT! Bring them as your "plus one!" The Teacher/School Administrator must be present and actively participating as one of the two guests in this BOGO offer.

Since opening the park we've had many field trips, summer camps and local schools take on the eight vastly different adventure elements that our beautiful park has to offer. This park was built to serve families and groups alike. It is an uplifting experience to see the groups utilize the 60-element Aerial Adventure Course for team building exercises and families traverse across the Via Ferrata while building their communication strategies. With eight different adventures options, each individual's experience is set to be unique.  
In the spirit of the holiday season, our team at Quarry Park Adventures simply wants to say "thank you" to Teachers and School Administrators by offering this exclusive discount. We appreciate all of the wonderful educators in our community that work tirelessly for our youth, and help to inspire a lifelong love of learning. We look forward to serving you at Quarry Park Adventures!